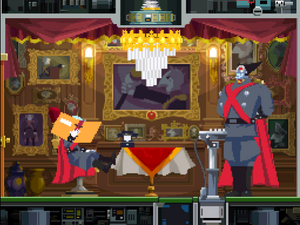 The Luxurious Parlor is accessed on Chapter 2. This is where Commander Sith's hideout is. In this place, Sissel finds out his name here. This place is seen again on Chapter 16, but it is now renamed the Control Room and is revealed to be part of the submarine Yonoa.
Ad blocker interference detected!
Wikia is a free-to-use site that makes money from advertising. We have a modified experience for viewers using ad blockers

Wikia is not accessible if you've made further modifications. Remove the custom ad blocker rule(s) and the page will load as expected.