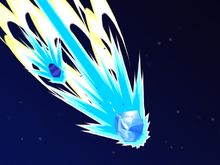 The Temsik Meteorite is a special meteorite that crashed on earth roughly 10 years ago. Part of the meteorite crashed directly into Yomiel, piercing his heart and killing him. It was found out eventually that anyone who dies while under the meteorite's radiation will gain ghost tricks.
Yomiel divides the ghost powers in 2 groups: Power and Time.
Power: The special abilities the person gains (ghost tricks)
Time: The ability to stop time (of Yomiel's and Sissel's body) or to go back to 4 minutes before someone's death.
Temsik is 'Kismet' backwards. Kismet is another word for 'fate', or 'destiny'.
Kismet is also very close to the Bulgarian word Kasmet which means 'luck'.
Ad blocker interference detected!
Wikia is a free-to-use site that makes money from advertising. We have a modified experience for viewers using ad blockers

Wikia is not accessible if you've made further modifications. Remove the custom ad blocker rule(s) and the page will load as expected.